Need help deciding if shutters work on your home? Here are some before and after photos of reader-submitted homes along with a few design guides to help you decide on shutters or not.
Wow, I received a lot of photos when I made my request last week! Thank you so much for responding. My readers are the best!
Once again, shutters look the best on windows where it looks like they can close over them.
However, there are exceptions to this rule. And shutters need to be considered on a case-by-case basis, so hopefully, my commentary on the following homes will help you make a confident decision if your house didn't make it in this roundup.
Shutters or not?
First, let's consider if my house is the exception to the rule of 'shutters should look like they can close over the windows'.
This is what it looked like after we removed all the old shrubs right after we took possession.
If I was just staring at my naked house with zero landscaping (above) I might have thought the windows on the right needed shutters. The wall looks a bit empty, especially when compared to the much larger windows on the left side.
This is also the time when bad stone or brick gets installed along the waterline of the house as well. When we don't realize how much of our yard can be transformed by landscaping. That's when we think the house needs an added stone detail.
Landscaping is decorating for the exterior after all. I have two video modules about this topic in my Exterior Masterclass. 
Just like, if you are looking at your bare kitchen without any styling, you might decide it needs that snappy accent tile after all.
Read more: Dos and Don'ts for Installing Accent Tile
Here's my house with landscaping:
Does my house still need shutters? Well let's find out, shall we? Here's a look at some shutters photoshopped on my windows.
There are a few reasons I don't think this is the best look for my house. Not only do they look wrong because they aren't visually wide enough to actually close and cover the windows (which is a key design feature you need to consider – even if you never intend to close them).
But also, I think this added detail looks like too much. Here's the other thing – they can't be white to match the trim because then you end up with a cottage look. So I photoshopped them in taupe to coordinate with the roof.
And here it is with them removed. Better. I think we can safely conclude that the landscaping won in this case. 
Let's look at some reader homes to see if they work with shutters or not:
Shutters or not? Exterior #1:
"My husband and I recently built a new home on a large parcel of land in the country.  As providence would have it, I discovered your color wheel and paint boards well before we broke ground, so those proved very helpful during the grueling process of choosing fixed elements and paint colors for interior and exterior.
The house is sort of a hybrid craftsman/farmhouse. The brick used for the foundation was produced just down the road at Pine Hall Brick and captures the hue of the rich red soil in these parts. Front door is fiberglass stained to give the appearance of stained wood. The porch rails are black and I've struggled with whether or not to add black shutters to some of the windows (garage in particular) in order to break up all the white.  On one hand, it has a crisp clean look; on the other hand, it looks like it needs something.
The picture I've attached is fairly recent so the immaturity of the landscaping is apparent.  But I hope this will help in developing your article on whether or not to add shutters (and if you have any suggestions, I would be greatly honored to receive your feedback!)."
Does this house need shutters or should we add some additional landscaping instead?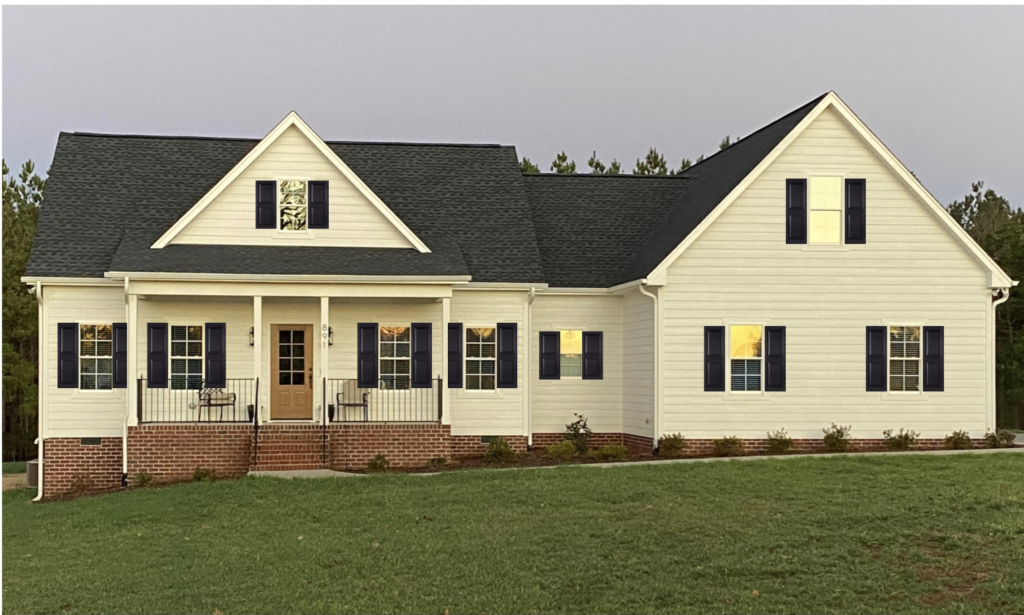 What do you think? Better or not?
Personally, I like this home better without shutters. It's just too many shutters (and in the end they should have been slightly skinner) However, we do need additional landscaping – perhaps a tree or two out front. And that's what I would focus on here.
Shutters or not? Exterior #2
"Maria, I know for sure that I don't want to replace the shutters on the 3 living room windows (to your comment that two shutters won't cover three windows) but I don't know if I should replace the shutters on the rest of the windows. I'm thinking about painting the house blue and the shutters white but still undecided about color."
You know, I love the idea of a blue and white house. This definitely has a cottage feel to it! However, I agree it does not need shutters as you've said.
Many people talked about the back of their house and let me reassure you there. Unless you want it to be prettier FOR YOU, it's not part of the curb appeal and doesn't need shutters.
Shutters or not? Exterior #3
"I'm so glad you asked for pics because I have been wondering this. You can't tell, but the existing shutters are wood and several of them are very warped and need to be replaced. The house faces west, so I'm afraid any shutters we'd replace them with will fade and look terrible from all the sun exposure here in the hot Tennessee sun.
I'd love to go without, but don't know if will be too much orange brick and not enough architectural interest. I do have climbing roses starting to grow up the brick on the right wing. And the trees next to the porch are leafed out now, burgundy-colored Japanese maples.
I'd love any thoughts you have! If you do suggest shutter, is the current good?"
So, in this case, I didn't need to photoshop the house without shutters. It looks perfect with them and in addition the shutters on the second floor definitely help visual balance the wider windows below on the first floor. 
Shutters or not? Exterior #4
"Maria, I think my house would look crazy silly w/o them?! Now you have me questioning it :)" 
I agree, this house needs shutters and it looks good the way it is. However, perhaps what bothers you about your house are the two random arched windows, especially the one positioned in the centre of the facade. Unfortunately, an architect got creative here. 
Shutters or not? Exterior #5
"With shutters" is the before photo showing the house as originally built.
Two years ago when I was educated as to how shutters are supposed to look, we removed them and "no shutters" is a current photo. Now I'm wondering if "no shutters" looks OK or if I should add shutters to the top floor middle window and the two windows on the bottom floor left and maybe bottom floor right window as those could look as if they can cover the windows. Would love your opinion, Maria, it has served us so well so far!"
I like this house without shutters. They bother me in the image with shutters on ALL the windows. And I don't think adding them just on the skinny windows does enough to the curb appeal.
Also, I believe this house needs to be painted a colour instead of white. Even adding a tree or two would be add some visual interest to the exterior and take the attention away from the naked windows. However, in this case, I prefer them naked.
Shutters or not? Exterior #6
This email simply stated, "No shutters and I like it!."
And, I would agree. It would look really busy otherwise with each of the shutters butting up to the next one. 
At first I thought maybe the dark trim around the front door would look better painted white but when I photoshopped out the screen door and added a colour, I changed my mind.
Shutters or not? Exterior #7
"Thank you for looking at this photo of my house.  I think I made a classic mistake with the shutters when the house was built 22 years ago but I'm worried it will be like eyes without eyelashes if I remove them.  There is a third window with shutters, obscured by the Japanese Pine.  The door and the shutters are all painted in BM Essex Green.  I have to say I've learned so much from your blog and e-books, and I love my new undertones wheel!"
Well what do you think? Shutters or no? Let's see what this house looks like without shutters:
I have to say I prefer the house without shutters. Maybe because so much of the black roofline is visible and when combined with the black shutters on the too-wide windows, it doesn't work. I'm not a fan of so much black, especially when combined with orange brick on the house (it starts looking halloween after all).  
I do like that they matched the orange colour of the brick for the gable with stucco, you don't even notice it until you start looking.
Also the Japanese pine is getting large out front, but see how pretty it is in front of this home?
This is what some of these other homes need –  a tree to distract from architecture that might be less-than-amazing.
Shutters or not? Exterior #8
"Maria, I was just wondering if shutters would work on my house! I need to repaint this summer and thought to add shutters BUT a shutter won't fit on the window to the left of the side door where the exterior light fixture is. Is it ok to add shutters to only one side of a house?"
This house definitely would not look better with shutters. This is a perfect example of where landscaping is what we need. However, she brought up a point I want to make and that is this:
If a passerby can see both sides of your house from the street (like this above) and you decide to add shutters to the front of your house,  you would also need to add them to the side you can see from the road as well.
This is another exterior detail you need to consider when deciding on shutters. How many sides of your home are viewable by the street?
Shutters or not? Exterior #9
"We moved into this house last year, and I've always wondered about the shutters. I know they're too skinny, but I think it might look too stark without them? I would love to hear your thoughts!
My house is on a steep wooded hill, so it's hard to get great photos. I did my best! I attached the real estate photo too in case that helps. There are windows above and below the deck with shutters as well."
At first I looked high and low for the front door but this does appear to be the front of the house. And it does not need shutters on these too-wide windows. 
Shutters or not? Exterior #10
"We are debating if we should get white raised panelled style shutters for the two windows above the front porch. Do you think our house needs shutters or would look better without them?"
Definitely no. Here's why I wouldn't do shutters on this house.
First, it would look totally random on just the two windows. Second, the windows on your house have nice, wide trim. This is something we often recommend to our eDesign exterior clients all around the country. Ample, beautiful wide trim does not scream for shutters like others might. 
Here's what this house needs: a fun red door! When your front door is underneath an overhang, it doesn't look best in a dark wood stain. Rather, this is when you need a bright and clean front door colour. Since we already have some red pillows here, adding the red door was easy. And in this case, include red on the sidelights as well.
NOTE: Painting the sidelights to match the door is also something we suggest on a case-by-case basis in eDesign. It doesn't work on every house.
Super fun! And have some patience, your landscaping is young and needs to come in. 😉
I received this photo without comments. Even though the windows are a little wide here I think the shutters look good on this elegant home with beautiful landscaping. It feels balanced. 
And last, here's a before & after of an eDesign project we did last year:
This client has a cottage style home so the white shutters work on this home. The shutters just needed to match the style of the home.
We also confirmed that a pergola over the garage was a great idea. And, in this case, we cannot add shutters to the windows on the right side of the home, even though we can see them from the street.
However, I advised her to beef up the trim around the side windows, which help balance the front.
So there you have it! I hope this helps your decision making, if you need help with making this decision or with colours on your exterior, see my exterior eDesign packages here.
And if you've decided landscaping is what you need, contact my Landscape designer
MaryAnne White here.
I just want to tell you, I am so thankful I took your class. Not just because it helped with understanding colour but it also put a lot of renovation choices into perspective. The whole concept of renovation budget; I have an entirely new opinion on where I want to spend my money.

 

Prior to your class, we were almost ready to commit to adding on a dormer/porch to the front of our house for $40K. We don't gain much because we aren't finishing out the extra square footage this time. We also wanted to dress the front of our house up for curb appeal, but that can be achieved with adding shutters, new exterior doors and a new garage door which is a far cry from $40K and that money didn't include all those things I just mentioned, which if I don't do those, then the new dormer/porch would look blah because it's not decorated!

 

I was so nervous to spend the money on the class, but immediately I have saved myself well over 10x the class in thinking differently about renovations as a whole. Thank you again!! 
There's so much to learn in my virtual workshop but learning to spread your money around so that you're spending it on the most important areas FIRST is a big one.
Then I recently received this photo from a follower:
Her question is whether we should paint the left side to match the right because the lighting makes them different. We will get this flat in the workshop as well. Is it the lighting or is it the wrong colour? We will find out.
Related posts: