Fred Kerley is used to being in a crowd, but he definitely knows how to stand out.
Kerley separated from the field just before the finish line on day two at the World Athletics Championships Oregon22 to lead a US podium sweep in the men's 100m on Saturday (16).
Kerley's win came on the heels of Chase Ealey gaining the first US gold of the championships in the women's shot put, while Wang Jianan captured China's first men's long jump title on the world stage.
In the final race of the night, there were fewer people on the start line with Kerley at Hayward Field than there were in his childhood bedroom.
Kerley, 27, lived in a household of 26 people while growing up in Texas after he and his siblings were adopted by his aunt, Virginia Kerley, in 2005.
"There were 13 of us in one bedroom, on a pallet," Kerley said. "At the end of the day, like every other house, we all had fun, we enjoyed ourselves and we're doing great things right now."
Kerley certainly is. He can now call himself the fastest man in the world, winning the third straight gold for the US in the men's 100m and the 11th overall in the event.
But he didn't know he had won, he said, "until I looked at the clock and it said, 'Fred Kerley, No.1′."
The Tokyo Olympic silver medallist clocked 9.86, while Marvin Bracy-Williams and Trayvon Bromell both crossed the finish line in 9.88, with Bracy-Williams finishing two-thousandths of a second ahead of his training partner.
"I lost the Olympics by 0.04," Kerley said of placing behind Italy's Marcell Jacobs, who withdrew from the Oregon semifinals so as not to risk further injury. "I saw Bracy in front of me —  he dipped early and I dipped at the right time and got the job done."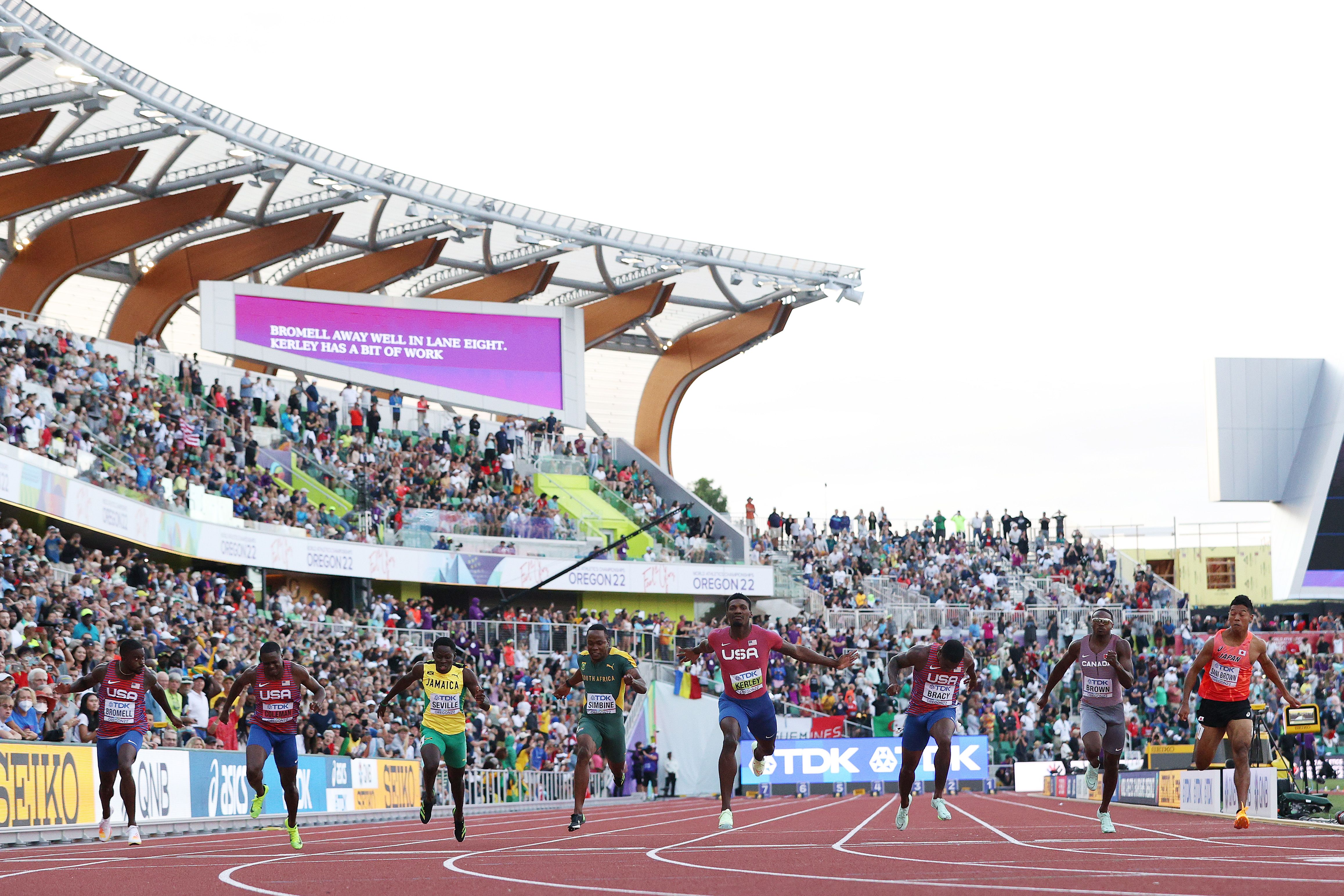 Fred Kerley leads a US medal sweep in the 100m at the World Athletics Championships Oregon22 (© Getty Images)
Kerley also has the 200m later this week, and a medal in that event would complete an unprecedented triple. In 2019, he was the bronze medallist at the Doha World Championships in the 400m. During the pandemic, Kerley dropped down to the shorter sprints.
"If it was 2020, I probably wouldn't be in this position," he said. "I'd probably still be in the 400." 
However, the one-lap race became his specialty in college. "I was actually doing the 200, 100 and long jump in high school," Kerley said. "I'm just back in my playground."
He's also open to running legs on both the 4x100m and 4x400m relays, he said, if the US coaches ask. 
The US has swept the 100m twice before at the World Championships, with both golds won by Carl Lewis. In 1983, Lewis was followed by Calvin Smith and Emmit King and in 1991 by Leroy Burrell and Dennis Mitchell.
"The greats did it in 1991 and the greats did it in 2022," Kerley said.
Bracy-Williams added: "This is history. To be a part of something that has only happened three times ever, it just means the world to me. This is something that has to be talked about forever."
The odd man out in Saturday's race was Christian Coleman, who won the world title in 2019, allowing the US to send four men to Oregon. Coleman placed sixth with a time of 10.01, and then sat on the track past the finish line for a long time, his elbows on his knees. 
In a twist of fate, Kerley said that prior to being adopted, his last name had actually been Coleman.
The medals for Bracy-Williams and Bromell were the culminations of long journeys. "In 2016, he went to football, I got hurt, then he got hurt and I still was hurt," said Bromell. "The man went through everything and I went through everything."
Bromell had tied for the 100m bronze in 2015, but was plagued by injury, leaving the track at the Rio Olympics in a wheelchair. He was on the brink of retiring in 2018 and had to work hard to regain his form after two achilles surgeries. Then Bromell went into the Tokyo Olympics as the world leader and did not make the final. He said he wasn't ready mentally, but now he is.
"It's hard to wake up sometimes and my ankles be cracking, my hips be cracking," Bromell said. "I felt like an old man even though I'm young. To be able to stay motivated, it's tough when you have all these injuries and travel all over the world and have them tell you, 'It may not happen.' To be in this moment with these guys, it's all worth it."
Bracy-Williams had stepped away from the sport for a pro football career. 
"I ended up breaking my arm, and I realised right then and there, it wasn't for me," Bracy-Williams said. "As well as I saw Christian Coleman win the World Championships, and I was like, 'OK, young guys are stepping up.' I was one of the those young guys one time. I got less wear and tear on my body, I'm still fast, I'm still fit, it's time to go back."
At the US Olympic Trials last summer, he was injured in the semifinals. Bracy-Williams said he also has had to deal with a ruptured appendix and intestinal blockage.
"To be so close, to keep fighting, speaks to my perseverance, to my character as an athlete, and tells you who I am," said Bracy-Williams, the 2022 world indoor 60m bronze medallist.
In the final, Bracy-Williams was in lane three with Kerley one lane to his right, while Coleman was in lane seven and Bromell in lane eight. Bracy-Williams said it was a huge advantage being next to Kerley, "because you get to feed off him. You know he's running hot right now."
Bromell said he "just wished I was closer" to the action in the middle of the track, but added: "I can't think about that, man. I got a medal, so I'm just happy."
Kerley, who ran back-to-back times of 9.76 and 9.77 at the US Championships last month, wasn't disappointed that his times were slower at the World Championships. In the semifinals, he ran 10.02.
"The win is the most important thing in track and field," Kerley said.
And the most important thing in life is his family. Kerley said he thinks often about how much his aunt sacrificed for him and the other children.
"I'm thankful for her to be in position," Kerley said, "to win in life."
First throw holds up for first title for Ealey 
From the very first throw of the women's shot put competition, Chase Ealey uncorked a toss of 20.49m, just two centimetres shy of her world-leading mark of 20.51m, which is also her PB.
That held up to win the first women's title for the US in the shot put, an event the US men have dominated. However, Gong Lijiao, the Olympic gold medallist and defending champion, gave Ealey a bit of a scare when she threw a season's best 20.39m on her fifth attempt.
But Gong managed only 19.89m on her sixth and final throw, so Ealey didn't have to rely on another massive throw. She fouled her last attempt. 
"Gong is a seasoned veteran," Ealey said. "She definitely had me on my toes the whole time. I'm just happy I pulled out the win even if it was just one throw."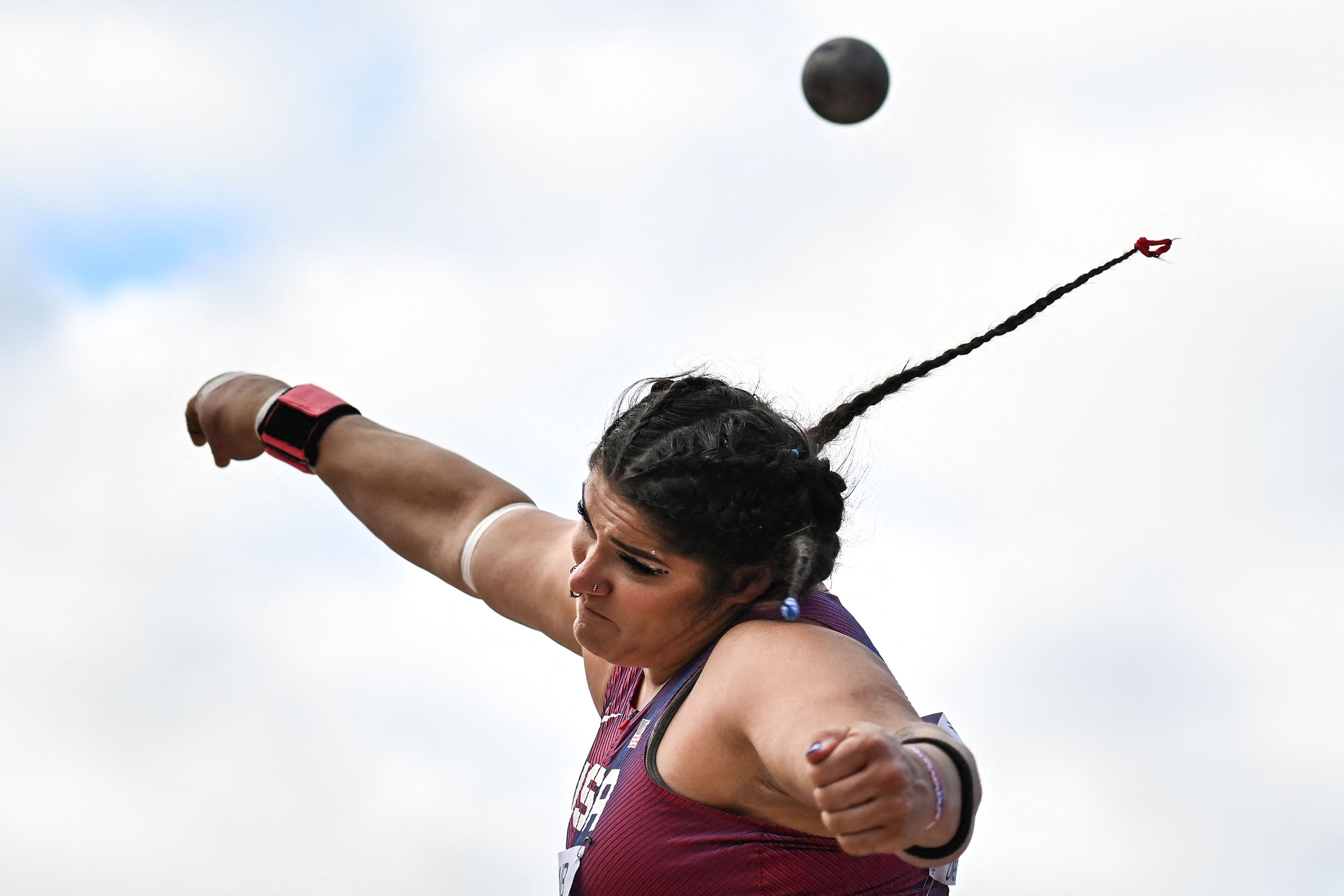 Chase Ealey, winner of the shot put at the World Athletics Championships Oregon22 (© Getty Images)
Jessica Schilder of the Netherlands took the bronze with a national record of 19.77m. Canada's Sarah Mitton threw the same distance, but missed the podium on countback.  
For Gong, this was a record seventh World Championships medal. Ealey said she can envision a similarly long career. "Definitely," she said, "I think I'm just getting started."
Ealey is the 2022 world indoor silver medallist and is now undefeated in eight outdoor meetings, including three Wanda Diamond League victories.
She said she did not really start falling in love with athletics until she was in college, "which made me start respecting my event more. And then I really felt like I could do something and really wanted to stop just being OK at something and really turned over and started going for it."
Wang leaps from fifth to first on final jump 
After fouling his first attempt, Olympic champion Miltiadis Tentoglou of Greece had an impressive series in the men's long jump of 8.30m, 8.29m, 8.24m and 8.32m. Switzerland's Simon Ehammer, who came into Oregon as the world leader, was next at 8.16m. 
But then Wang Jianan leaped a season's best 8.36m on his sixth jump to move from fifth into first. His previous best was 8.03m on both his third and fifth jumps. 
Then Wang waited nervously on the track as his rivals wrapped up.
Ehammer jumped a wind-aided 7.94m on his final attempt, and Tentoglou went 8.20m. 
Asher-Smith has fastest time in women's 100m heats
Great Britain's Dina Asher-Smith, the defending world champion in the women's 200m, posted the top time in the 100m heats. Asher-Smith ran a season's best of 10.84 to win her heat. It was the second-fastest 100m heat time in World Championships history, and just 0.01 off of her own British record.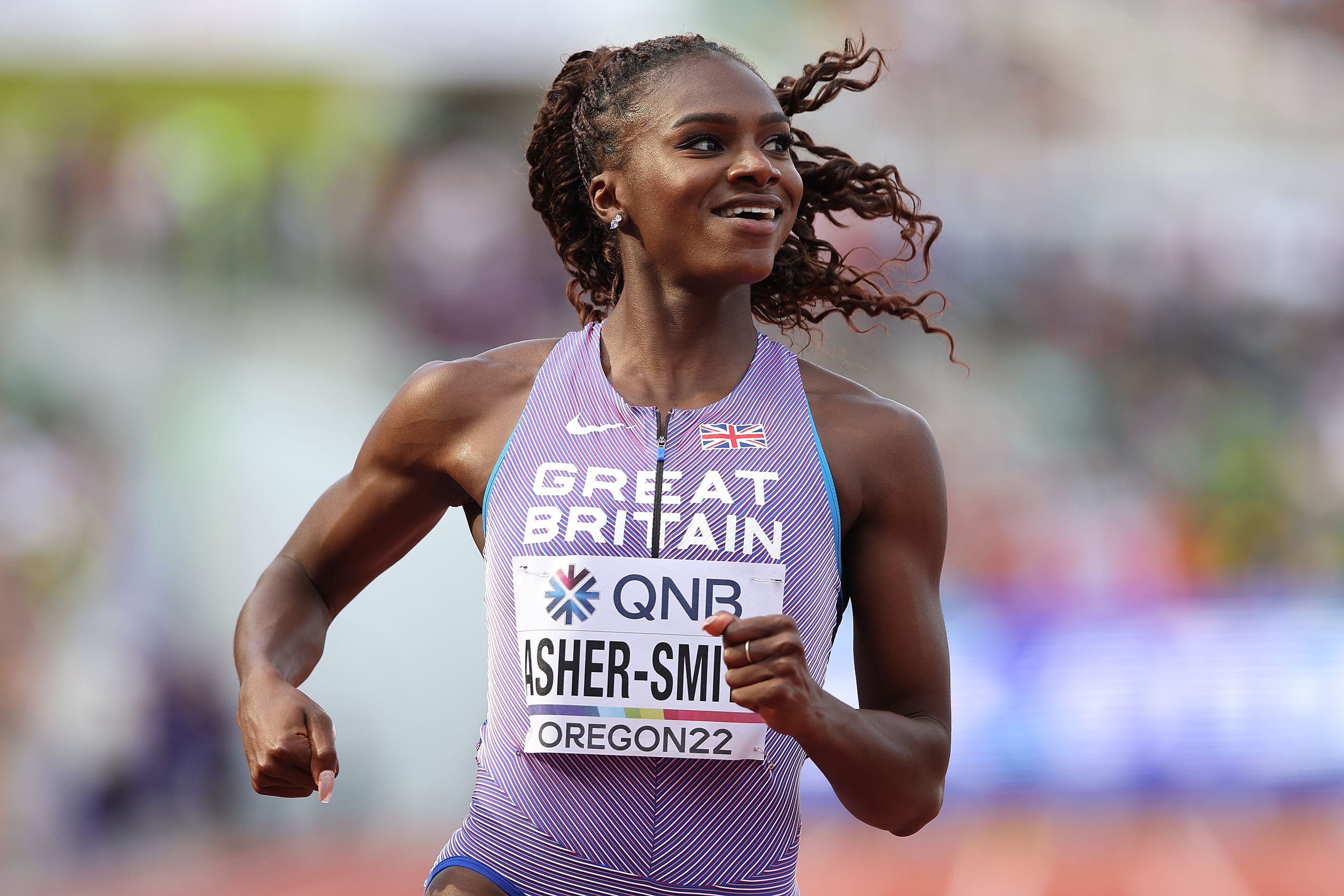 Dina Asher-Smith reacts to her 100m heat performance at the World Athletics Championships Oregon22 (© Getty Images)
Defending champion Shelly-Ann Fraser-Pryce of Jamaica had the next fastest time of 10.87 and tweeted that it was "good to see and hear so many Jamaicans in the stands!"
Marie-Josee Ta Lou of Ivory Coast ran a season's best of 10.92, while Great Britain's Daryll Neita clocked 10.95, also a season's best. The top US finisher was Twanisha Terry at 10.95 and Switzerland's Mujinga Kambundji, the world indoor 60m champion, was the other sprinter under 11 seconds at 10.97.
"I had some very talented and up-and-coming women in my heat, so I had to execute my race but conserve a little bit," Asher-Smith said. 
Jamaica's Elaine Thompson-Herah, the two-time Olympic 100m gold medallist who has yet to win an individual medal at the World Championships, coasted into the semifinals by clocking 11.15 to win her heat.
While Fraser-Pryce's performances are seldom surprising, her hair colour can be. The bright purple hue was quite a sight for the fans. "Honestly, I love colouring my hair," she said. "When it comes to track meets, you don't want to get too focused until you're nervous, so you try to do things to occupy your time and colouring my hair does that. I just chose a colour and this time it was purple."
Over in the women's 1500m semifinals, world indoor champion Gudaf Tsegay won her race with a time of 4:01.28, with Great Britain's Laura Muir (4:01.78) and Australia's Jessica Hull (4:01.81) close behind. Tsegay is the reigning world bronze medallist.
Two-time Olympic champion Faith Kipyegon of Kenya won the other semifinal in 4:03.98, while Ethiopia's Hirut Meshesha was next in 4:04.05 and US champion Sinclaire Johnson was third in 4:04.51.
Australia's Stewart McSweyn posted a season's best of 3:34.91 to win his heat in the men's 1500m and lead all qualifiers into the semifinals. Canada's Charles Philibert-Thiboutot also ran a season's best in the same heat of 3:35.02 to finish ahead of Jakob Ingebrigtsen of Norway, the Olympic champion coasting in at 3:35.12. 
Karen Rosen for World Athletics